WLPSZSTK14WHCK Pressure Seal Mailer - Z-Fold - White - 28lb Laser Check Stock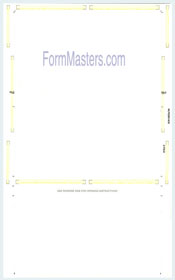 Click image to enlarge


P R O D U C T D E T A I L S
Product Info:
Z-Fold, 28lb, White, VOID pantograph DocuCheck "TonerFuse" stock with check backer.
Laser Pressure Seal blank check stock.
Along with the VOID pantograph, this stock also has "TonerFuse" built into it which infuses the LASER ink into the paper stock when imprinted.
This makes it virtually impossible for anyone to tamper with your imprinted information.
** This check can be imprinted with your heading and bank information to fit your check computer program layout.
Choose one of our background pantographs, borders and colors.
Call customer service for detail requirements if you would like these imprinted.
P R O D U C T P R I C I N G
| | |
| --- | --- |
| | Parts |
| Quantity | 1 |
| 500 Sheets | 82.00 |
| 1000 Sheets | 120.00 |
| 2000 Sheets | 234.00 |
| 2500 Sheets | 259.00 |
| 3000 Sheets | 309.00 |
| 4000 Sheets | 414.00 |
| 5000 Sheets | 479.00 |
| 7500 Sheets | 673.00 |
| 10000 Sheets | 823.00 |
| 15000 Sheets | 1212.00 |
| 20000 Sheets | 1586.00 |
| 25000 Sheets | 1926.00 |
---