WLPSCSTKWH Pressure Seal Mailer - C-Fold - 28lb White DocuCheck Laser Form Stock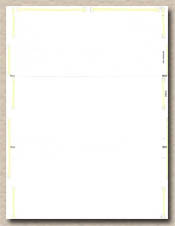 Click image to enlarge


P R O D U C T D E T A I L S
Product Info:
C-Fold, Pressure Seal Mailer, 28lb, laser White DocuCheck form stock - NO Check Backer.
Voucher imprint area 7-1/2" x 3-3/16".
Bottom imprint area size 7-1/2" x 3-1/8".
Can be used to print forms that would use the check style imprint areas.
Great for Direct Deposit checks or design your own check backer to go on it if used for check writting.
There are NO security features built into this stock.
** This form can be imprinted with your information to fit your computer program layout.
Call customer service for detail requirements if you would like these imprinted.
P R O D U C T P R I C I N G
| | |
| --- | --- |
| | Parts |
| Quantity | 1 |
| 500 Sheets | 70.00 |
| 1000 Sheets | 102.00 |
| 2000 Sheets | 201.00 |
| 2500 Sheets | 225.00 |
| 3000 Sheets | 269.00 |
| 4000 Sheets | 359.00 |
| 5000 Sheets | 444.00 |
| 7500 Sheets | 553.00 |
| 10000 Sheets | 689.00 |
| 15000 Sheets | 1003.00 |
| 20000 Sheets | 1317.00 |
| 25000 Sheets | 1581.00 |
---