ENV480221 Single Window Inside Tint Laser and Continuous Envelope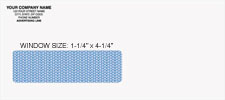 Click image to enlarge


P R O D U C T D E T A I L S
Product Size:
3 7/8" x 8 3/4"
Product Info:
24# single window, inside tint envelope that fits many of the DacEasy laser forms.
Imprint your company logo/heading information in the top left corner.
Window Positioning: Bottom Window - 1 15/16 inch from the top; 11/16 inch from the bottom; 1/2 inch from the left.
P R O D U C T P R I C I N G
| | |
| --- | --- |
| | Parts |
| Quantity | 1 |
| 500 | 89.55 |
| 1000 | 120.45 |
| 2000 | 220.00 |
| 3000 | 276.20 |
| 5000 | 437.50 |
---