TF7152 1099 Miscellaneous Dividend Income Continuous Tax Form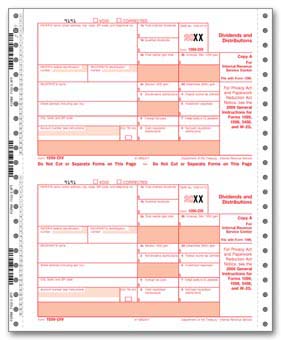 Click image to enlarge


P R O D U C T D E T A I L S
Product Info:
1099 Miscellaneous Dividend Income Continuous Tax Form.
For reporting of distribution of dividends, capital gains distribution or nontaxable distributions that were paid on stocks of $10 or more to any one person during the calender year and distribution in liquidation of $600 or more.
For printers that accommodate 9" wide forms.
Product construction: Continuous.
Carbon/Carbonless: CARBONLESS.

P R O D U C T P R I C I N G
Parts
Quantity
3
4
25 Sets
24.00
30.00
50 Sets
30.00
36.00
100 Sets
42.00
42.00
200 Sets
54.00
71.00
500 Sets
113.00
143.00
1000 Sets
203.00
280.00
---