TF5120 1099 Interest Income Federal Copy A Laser Form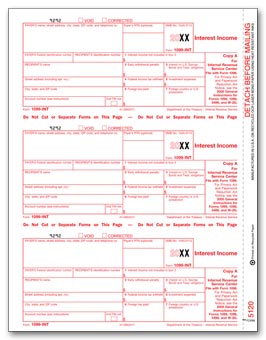 Click image to enlarge


P R O D U C T D E T A I L S
Product Info:
1099 Interest Income Federal Copy A Laser Form.
Use to report interest payments of $10.
00 or more paid to any one individual by banks, credit unions and like associations.
Does not include interest on IRA.
Three forms per sheet.
Forms are micro-perforated.
** Check your software manual for compatibility.
P R O D U C T P R I C I N G
| | |
| --- | --- |
| | Parts |
| Quantity | 1 |
| 100 Sheet | 24.00 |
| 200 Sheet | 36.00 |
| 300 Sheet | 42.00 |
| 400 Sheet | 48.00 |
| 500 Sheet | 54.00 |
| 1000 Sheet | 95.00 |
---