TF2147 Continuous 1099-B Magnetic Madia Self-Mailer Tax Forms - Carbon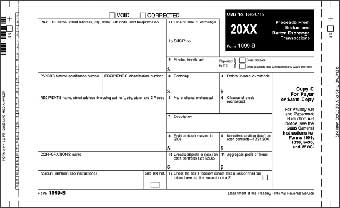 Click image to enlarge


P R O D U C T D E T A I L S
Product Info:
TF2147 Continuous 1099-B Self-Mailer Tax Forms.
Use to report sales or redemption of securities, futures transactions, commodities, and barter exchange transactions (all amounts).
2-part carbon Magnetic Media self-mailer.
Outside: Copy C.
Inside: Copy B.
Dated.

P R O D U C T P R I C I N G
| | |
| --- | --- |
| | Parts |
| Quantity | 2 |
| 25 Sets | 22.00 |
| 50 Sets | 36.00 |
| 100 Sets | 54.00 |
| 200 Sets | 89.00 |
| 300 Sets | 112.00 |
| 400 Sets | 139.00 |
| 500 Sets | 164.00 |
| 750 Sets | 247.00 |
| 1000 Sets | 326.00 |
| 2000 Sets | 646.00 |
| 3000 Sets | 965.00 |
| 4000 Sets | 1283.00 |
| 5000 Sets | 1602.00 |
---