TF2132 Continuous 1099 Dividend Self-Mailer Tax Forms - Carbon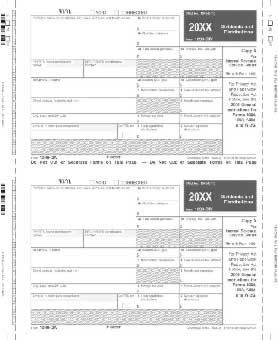 Click image to enlarge


P R O D U C T D E T A I L S
Product Info:
TF2132 Continuous 1099 Self-Mailer Tax Forms - Carbon.
Use to report distributions of dividends, capital gain distributions or nontaxable distributions, that were paid on stock of $10 or more to any one person during the calendar year and distributions in liquidation of $600 or more.
For printers that accommodate 9" wide forms.

P R O D U C T P R I C I N G
Parts
Quantity
2
4
25 Sets
22.00
34.00
50 Sets
36.00
44.00
100 Sets
54.00
56.00
200 Sets
89.00
89.00
300 Sets
112.00
133.00
400 Sets
139.00
162.00
500 Sets
164.00
197.00
750 Sets
247.00
292.00
1000 Sets
326.00
386.00
2000 Sets
646.00
655.00
3000 Sets
965.00
980.00
4000 Sets
1283.00
1304.00
5000 Sets
1602.00
1628.00
---