WFP410CT COMB DISB-PAYROLL TOP-WRITE CHECK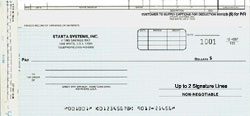 Click image to enlarge


P R O D U C T D E T A I L S
Product Size:
4-1/4x9-1/8
Product Paper Type:
SGL TOPLINE CARBON BAND
Available Colors:
BLUE, GOLD, GREEN
Compatible Vendor:
MCBEE
Product Info:
Combination Disbursement/Payroll Check - McBee punch. Customer to fill in the deduction boxes. Disb. and Payroll Journal: WFP400, WFP421J, WFP4430J. P/R Ledger: WFP403 or WFP406, Pegboard: W9000.
P R O D U C T P R I C I N G
| | |
| --- | --- |
| | Parts |
| Quantity | 1 |
| 300 | 162.50 |
| 625 | 220.70 |
| 1250 | 332.30 |
| 2500 | 536.00 |
| 5000 | 870.80 |
---