WCKD5TW TOP WRITE DISBURSEMENT ONE-WRITE CHECK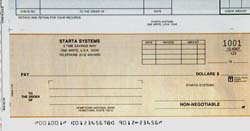 Click image to enlarge


P R O D U C T D E T A I L S
Product Size:
4.2x8-1/4
Product Paper Type:
SGL TOPLINE CARBON BAND
Available Colors:
BLUE, GOLD, GREEN, ROSE
Compatible Vendor:
SAFEGUARD
Product Info:
Top Write Cash Disbursement One-Write Pegboard Check. This on-write check has a carbon band along the back side posting line. Check Journals that fit this check are WJD3017NCR (5 columns), WJD30R (32 columns), WJD30RNCR (32 columns), WJD4/5EDP (3 columns), WJD424 (32 columns), and WJD429 (41 columns). Unit Distribution Ledger is WLD4. Check Envelopes is WDWETST. One-Write Pegboard is PRG3SG.
P R O D U C T P R I C I N G
| | |
| --- | --- |
| | Parts |
| Quantity | 1 |
| 300 | 197.70 |
| 625 | 271.70 |
| 1250 | 402.60 |
| 2500 | 640.30 |
| 5000 | 1028.40 |
---