CK1NP DISBURSEMENT ONE-WRITE CHECK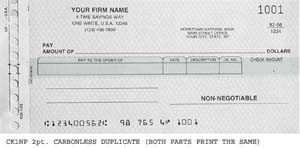 Click image to enlarge


P R O D U C T D E T A I L S
Product Size:
3x6
Product Paper Type:
DUP NCR BOTH PTS PRINTED SAME
Available Colors:
BLUE, BROWN, GREEN
Compatible Vendor:
VERIBEST
Product Info:
One-Write Pegboard Check for paying disbursements. Both parts print the same. This one-write check is 2 part with the duplicate being imprinted the same as the original.
P R O D U C T P R I C I N G
| | |
| --- | --- |
| | Parts |
| Quantity | 2 |
| 300 | 159.30 |
| 600 | 206.70 |
| 1200 | 317.40 |
| 2400 | 524.10 |
| 4800 | 941.00 |
---