SWO207 Service Work Order, Register Form - Carbonless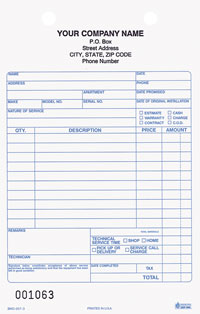 Click image to enlarge


P R O D U C T D E T A I L S
Product Size:
5 1/2" x 8 1/2"
Product Imprint Size:
1" x 4"
Product Info:
Service Work Order, Register Form.
Provide easy reference for items after work is completes.
Mix-ups and billing errors can be avoided by recording all details at the time work is done.
Orders of 1,000 or more Imprinted forms will receive a FREE plastic register machine.
For a heaver guage plastic Register Machine see product MAC9973.
Or, for an all metal Register Machine see product MAC9975.
P R O D U C T P R I C I N G
Parts
Quantity
2
3
250
102.80
114.50
500
135.10
161.20
1000
192.40
242.90
2000
313.00
410.70
3000
427.00
588.30
---