GRO663 General Repair Order Form, Snap-A-Part - Carbon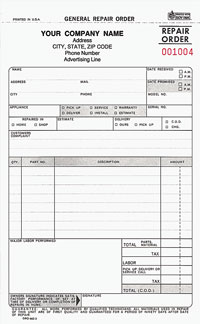 Click image to enlarge


P R O D U C T D E T A I L S
Product Size:
5 2/3" x 8 1/2"
Product Imprint Size:
1" x 4"
Product Info:
General Repair Order Form with carbon interleaf.
List your parts, labor, and an area provided to list any major labor performed.
Holes drilled at bottom to keep on a ring board.
P R O D U C T P R I C I N G
| | |
| --- | --- |
| | Parts |
| Quantity | 3 |
| 250 | 110.90 |
| 500 | 156.40 |
| 1000 | 246.10 |
| 2000 | 433.80 |
| 3000 | 624.40 |
---