DF90 Purchase Order - Detached Carbonless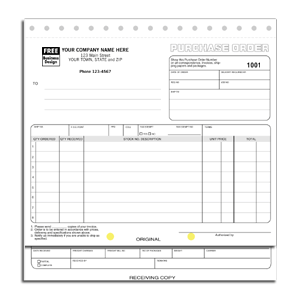 Click image to enlarge


P R O D U C T D E T A I L S
Product Size:
8 1/2" x 7" Receiveng copy 8 1/2" x 8"
Product Info:
One write up gives you the order PLUS a ready-made receiving report! Special section for remarks.
Blocked out price columns on receiving copy.
Receiving Report is on last copy of 3 part form, last 2 copies of 4 and 5 part forms.
P R O D U C T P R I C I N G
Parts
Quantity
3
4
5
250
205.20
234.50
296.90
500
293.10
348.20
456.10
1000
421.50
542.20
679.80
2000
677.90
912.50
1172.60
---