DF12669 Laser/Inkjet Assorted File Folder Label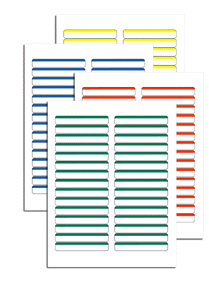 Click image to enlarge


P R O D U C T D E T A I L S
Product Size:
3 1/2" x 2/3"
Product Info:
Laser/Inkjet Assorted File Folder Labels.
Versatile labels have dozens of uses! Get the style that's right for you.
Each pack contains 150 of each color: red, blue, green, yellow, and white.
Can be used in LASER or INKJET printers.
30 labels per sheet.
Product construction: Sheet.

P R O D U C T P R I C I N G
| | |
| --- | --- |
| | Parts |
| Quantity | 1 |
| 100 Sheets | 48.40 |
| 200 Sheets | 86.20 |
| 300 Sheets | 111.00 |
| 400 Sheets | 139.80 |
| 500 Sheets | 168.70 |
| 600 Sheets | 201.10 |
| 700 Sheets | 232.40 |
| 800 Sheets | 262.70 |
| 900 Sheets | 292.40 |
| 1000 Sheets | 331.60 |
| 1100 Sheets | 364.30 |
| 1200 Sheets | 395.60 |
| 1300 Sheets | 424.40 |
| 1400 Sheets | 457.00 |
| 1500 Sheets | 487.00 |
| 1600 Sheets | 517.20 |
| 1700 Sheets | 549.80 |
| 1800 Sheets | 579.90 |
| 1900 Sheets | 611.10 |
| 2000 Sheets | 624.20 |
---